---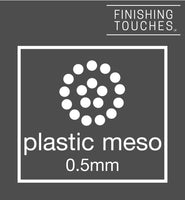 NEW BOX! Now in boxes of 10 and available in strips of 5!
Meso Skin Needling is an effective and painless procedure, which is conducted using any of the award-winning semi-permanent make-up devices available from Finishing Touches. There are two different types of Meso Skin Needling procedures: Meso Me uses a plastic needle and Meso + uses a metal needle. With just a simple change of the needle cartridge, the tilting needle plate instantly transforms any of the machines.
It is a 'gentle' skin needling concept using only plastic needles. This treatment is suitable for all skin types, with all redness dissipating within 1-2 hours of the procedure. This is particularly good for clients who want minimal trauma and downtime. Using hyaluronic skin infusions from Cell Biologique and an 18-point plastic needle cartridge, the client will be able to see an almost instant improvement in skin texture and tone as well as less fine lines and wrinkles.
Box of 10 needle plates
• Flexible, convex plate with 18 points
• Small surface: 5 mm plate diameter
• Points Length: 0.5 mm (penetration into skin about 0.2 – 0.3 m)
This product can only be purchased after completion of a Meso Workshop with Finishing Touches or if you are able to provide us with a certificate of training with another reputable company.