---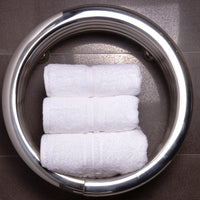 SmartSoft is the latest collection of SupremeSoft Bathrobes, SupremeSoft Spa Linen and SmartKnit Towels with an environmental conscience. SmartSoft provides energy efficient towelling solutions for Spas, Hotels and Laundries wishing to substantially reduce their energy consumption, with a responsibility to the environment.
70 %reduction in energy usage
31 % reduction in laundry drying times
65 % less oil absorption than traditional 100 per cent cotton towelling
This is a brand new collection of Energy Efficient Towels, with a unique knitted construction that makes them snag free and long lasting. 
550 GSM Thickness
Significant Energy saving compared with a traditional towel
Reduction in Drying Time
Reduction of absorbency in oil than traditional towelling
Reduction in water consumption
Long lasting - the knitted weave of this towel means that it will not pull or tear
Reduce your carbon footprint
550 gsm
Colours : White
SmartKnit is part of the SmartSoft Collection which includes: SupremeSoft Bathrobes and SupremeSoft Spa Linen.
SmartKnit Towels are part of the SmartSoft collection.These new energy efficient towels are made with a unique fabric blend that gives them exceptional energy saving properties. The entire collection is 100% Guaranteed for the claims of sustainability and energy savings which can be verified by the independent reports provided by the Laundry and Technology Centre (LTC).
Available in 550 & 550 gsm weights 
Colours : White
The SmartSoft Collection provides towelling solutions for all salons and spas wishing to substantially reduce their energy with a responsibility towards the environment.