---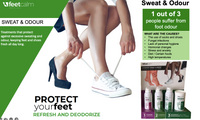 Save 10% on this starter kit bundle.
An everything-you-need, start-up kit for the Feetcalm Sweat and Odour range.
Kit Includes:
3 of the 125 ml Sweaty Feet Mousse
3 of the 125 ml Deodorant Spray for Foot and Shoe
3 of the 100g Deodorant Foot Powder
3 of the 125ml Hydrating Mousse
One Display Stand (arriving Sept 2023)
Ingredients of all the products can be found by looking at each individual product on the website.