---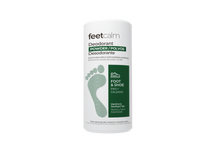 Eliminates excess sweat & bad foot odour by creating an adverse environment for the proliferation of bacteria that cause the smell. It helps to isolate the skin of humidity, bacteria and fungi, keeping feet dry and fresh all day long.

Suitable for all feet, use daily on your feet and inside your shoes.
Sterilised Talc: Antiperspirant Zinc Oxide: Antiperspirant Magnesium Carbonate: Antiperspirant & Deodorant Menthol: Refreshing & Soothing
Combine daily with the Sweaty Feet Mousse and the Deodorant Spray for feet and shoes. At least twice a week, apply the Ultra Repair ampoule with 30% Urea.