---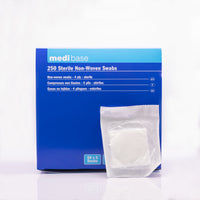 Sale
Swabs are soft gentle, virtually lint free swabs, that provide strength and durability. The close knit weave of fabric provides excellent wound release with no snagging on skin or wound debris.
B.P. Sterile Cotton Gauze. An open material layered 4 ply to be extra absorbent. Swabs can be placed over a wound before taping, strapping or bandaging. They can also be soaked in antiseptic liquid or water and used to cleanse wounds: just tear the top of the packet open, pour in antiseptic liquid or an eye wash (saline) pod and you have 5 'wet' wipes.
Dimensions: 5*5 cm.
– Number of plies: 4.
– Sterilisation: Ethylene oxide.
– Shelf life: 5 years.