---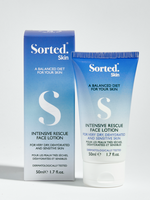 Three Opening Kits to choose from of the Intensive Rescue Range.  TRADE ONLY
Prices include  vat 
Intro deal 1 : 2 of each product  with one free 50 ml tester of Lotion  £43.20 inc vat  a saving of  £18 
Intro deal 2:  5 of each products with 2 Free 100 ml testers (lotion and spray) £108 inc vat  a saving of £45
Intro deal 3:  10 of each product with 4 free testers (lotion and spray) £216 inc vat a saving of £90 
A triple-action trio comprising of; a spray, face lotion and  moisturiser that delivers moisture-locking technology for up  to 72 hours to rejuvenate, rebalance and restore skin, whilst  strengthening the skin's microbiome for long-term protection.  The formulas in this range include wonder ingredients such as  anti-irritant oat extract, ceramide-rich jojoba, soothing aloe  vera, omega-rich sea buckthorn, pentavitin and detoxifying  zeolite.
INTENSIVE RESCUE SPRAY - STEP ONE
Breaks the itch-scratch cycle on contact with natural antibacterial ingredients
Instant hydration & relief from itchy, dry, inflamed & sensitive skin
Contains 15 natural essential oils & extracts
Triple action; nourishes, soothes & protects
INTENSIVE RESCUE FACE LOTION
A light, soothing and rebalancing lotion for the face and  around the eyes that is formulated with 19 natural essential  oils and extracts, to ease the symptoms and tackle the  causes of dry, atopic and sensitive skin.
INTENSIVE RESCUE MOISTURISER - STEP TWO
Rich, quick-absorbing cream for the body
Targets extreme dry, cracked or damaged skin
Developed with 16 natural essential oils & extracts
Detoxifies the skin to relieve irritation
Triple action; rebalances, soothes & protects
WHO IS IT FOR?
As well as for everyday skin health,
Sorted Skin Intensive Rescue Range is suitable
for people who may experience:
Eczema
Dermatitis
Psoriasis
Dry, very dry & dehydrated skin
Allergic skin reactions such as itching